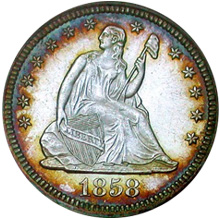 Seated Liberty Quarters were issued for a relatively lengthy period of 53 years, representing the longest design duration for the denomination up to that point. Mintage figures varied widely during the course of the series, with some scarce issues carrying original mintages in the low thousands and other common issues exceeding 10 million.
Coins were struck at Philadelphia, New Orleans, San Francisco, and Carson City. The design underwent numerous changes which results in six different subtypes within the series. The different mints and subtypes provide collectors with the opportunity to collect the series for a defined range, rather than in its entirety.
Mintages aside, finding original examples can be difficult for virtually every issue. Circulated Seated Liberty Quarters with original surfaces and above average eye appeal can trade for large premiums over average circulated coins or problem coins of the same date and grade. For some issues of the series, no uncirculated coins are known, and the finest pieces are represented by only a small number of AU pieces.
No Motto Above Eagle
1838 (No Drapery)
466,000
1839 (No Drapery)
491,146
1840 (No Drapery)
188,127
1840-O (No Drapery)
382,200
1840-O (Drapery)
43,000
1841
120,000
1841-O
452,000
1842
88,000
1842-O
769,000
1843
645,600
1843-O
968,000
1844
421,200
1844-O
740,000
1845
922,000
1846
510,000
1847
734,000
1847-O
368,000
1848
146,000
1849
340,000
1849-O
included in 1850-O
1850-O
412,000
1850
190,800
1851
160,000
1851-O
88,000
1852
177,060
1852-O
96,000
1853
44,200
Arrows at Date, Rays Around Eagle
1853
15,210,020
1853-O
1,332,000
Arrows at Date, Rays Removed
1854
12,380,000
1854-O
1,484,000
1855
2,857,000
1855-O
176,000
1855-S
396,400
Arrows and Rays Removed
1856
7,264,000
1856-O
968,000
1856-S
286,000
1857
9,644,000
1857-O
1,180,000
1857-S
82,000
1858
7,368,000
1858-O
520,000
1858-S
121,000
1859
1,343,200
1859-O
260,000
1859-S
80,000
1860
804,400
1860-O
388,000
1860-S
56,000
1861
4,853,600
1861-S
96,000
1862
932,000
1862-S
67,000
1863
191,600
1864
93,600
1864-S
20,000
1865
58,800
1865-S
41,000
Motto Above Eagle
1866
16,800
1866-S
28,000
1867
20,000
1867-S
48,000
1868
29,400
1868-S
96,000
1869
16,000
1869-S
76,000
1870
86,400
1870-CC
8,340
1871
118,200
1871-S
30,900
1871-CC
10,890
1872
182,000
1872-S
83,000
1872-CC
22,850
1873
212,000
1873-CC
4,000 (5 known)
Arrows at Date
1873
1,271,160
1873-S
156,000
1873-CC
12,462
1874
471,200
1874-S
392,000
Arrows Removed
1875
4,292,800
1875-S
680,000
1875-CC
140,000
1876
17,816,000
1876-S
8,596,000
1876-CC
4,944,000
1877
10,911,200
1877-S
8,996,000
1877-CC
4,192,000
1878
2,260,000
1878-S
140,000
1878-CC
996,000
1879
13,600
1880
13,600
1881
12,000
1882
15,200
1883
14,400
1884
8,000
1885
13,600
1886
5,000
1887
10,000
1888
10,001
1888-S
1,216,000
1889
12,000
1890
80,000
1891
3,920,000
1891-O
68,000
1891-S
2,216,000