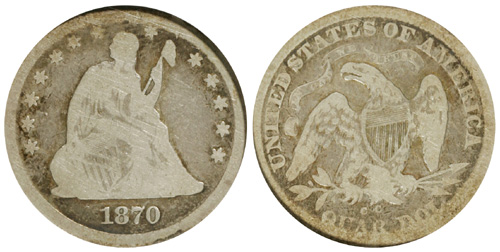 The 1870-CC Seated Liberty Quarter (Buy on eBay) was struck in the first year of production at the Carson City Mint. The branch mint had been established in order to produce silver coins from the famous Comstock Lode.
The Carson City Mint struck only 8,340 quarters during its first year of operation. With the region in desperate need of circulating coinage, the issue saw heavy circulation. As a result, the surviving 1870-CC Quarters are found almost exclusively in circulated grades. Many of these examples are impaired by cleaning, damage, or corrosion.
Only a single example of the coin is known in mint state grade. The coin was once part of the Eliasberg Collection and has been graded NGC MS-64. It was last sold at auction for $187,000 in 1997. Since this time, examples graded AU-55 have sold for similar prices, suggesting a much higher current valuation.
Coin Specifications
Designer: Christian Gobrecht
Composition: 90% Silver, 10% Copper
Weight: 6.22 grams
Diameter: 24.3 mm
Edge: Reeded