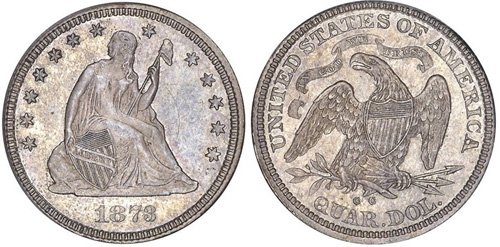 Following the Coinage Act of 1873, the weight of the quarter dollar was increased from 6.22 grams to 6.25 grams. To denote the change, arrows were placed to each side of the date. Prior to the change, the Carson City Mint had supposedly struck a quantity of 4,000 pieces under the prior specifications without the arrows.
From the original mintage, only five examples of the 1873-CC "No Arrows" Seated Liberty Quarter (Buy on eBay) are known to have survived. Surprisingly, three of these five pieces are in mint state grades. Regardless of the grade, these pieces generate substantial interest on the rare occasions when they come to market. An example graded PCGS MS-64 realized a price of $460,000 at auction in 2012.
The "with arrows" variety of the coin also represents a rarity in its own right. The total mintage for the issue was 12,462 and due to heavy circulation only a handful of AU and Mint State examples have survived.

Coin Specifications
Designer: Christian Gobrecht
Composition: 90% Silver, 10% Copper
Weight: 6.22 grams
Diameter: 24.3 mm
Edge: Reeded