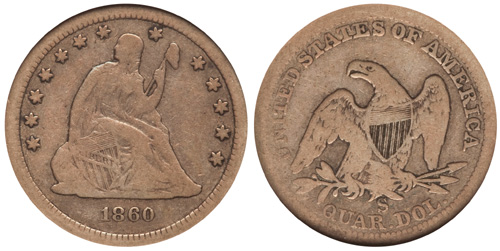 Most issues of the series from the 1860's are considered scarce to rare as the result of generally lower mintages as well as the impacts and aftermath of the American Civil War. Among these issues, the 1860-S Seated Liberty Quarter (Buy on eBay) is one of the most difficult coins to find and represents a significant conditional rarity.
The issue carried a mintage of 56,000 pieces, which experienced significant circulation throughout the western states. As a result of the heavy attrition, even well-worn examples command a significant premium. The issue is represented by only a single mint state example, which is currently graded PCGS MS-61. This example last sold at auction in 2017 for $37,600.
Later in the 1860's, mintages of both the Philadelphia and San Francisco Mint quarters would fall to lower levels, but none of these issues saw as much circulation as the 1860-S, and many were hoarded in reasonable numbers. The 1860-S Seated Liberty Quarter is a very difficult issue to find in any grade and one of the key-dates to a San Francisco set.
Coin Specifications
Designer: Christian Gobrecht
Composition: 90% Silver, 10% Copper
Weight: 6.22 grams
Diameter: 24.3 mm
Edge: Reeded