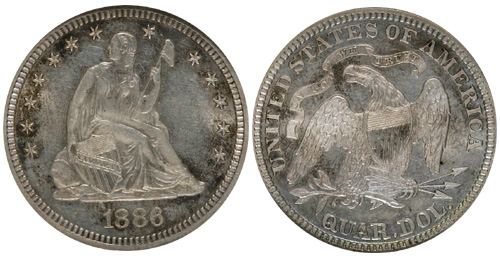 During the 1880's, Seated Liberty Quarter mintages at the Philadelphia Mint were extremely low. On several occasions the annual mintage dropped below 10,000. The lowest mintage was reached with the 1886 Seated Liberty Quarter (Buy on eBay), when only 5,000 were produced for circulation.
Despite the low mintage, this issue as well as others from the decade remain relatively available and affordable. This is a result of the lack or circulation and hoarding of the coins on a relatively large scale. Correspondingly, virtually all surviving quarters from this era are encountered in high grades with well circulated coins in the distinct minority.
One of the finest known 1886 Seated Liberty Quarters graded PCGS MS67 sold for $18,400 at auction in 2006.
Coin Specifications
Designer: Christian Gobrecht
Composition: 90% Silver, 10% Copper
Weight: 6.25 grams
Diameter: 24.3 mm
Edge: Reeded