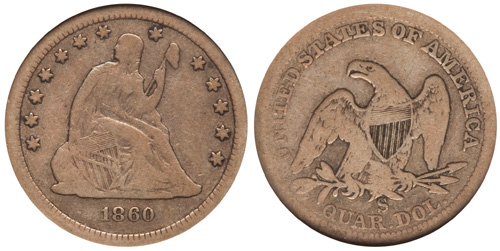 Virtually all issues struck in the 1860's at any Mint are scarce to rare, a direct result of the American Civil War which raged in that decade. One of the most difficult to find coins is the 1860-S Seated Liberty Quarter struck shortly before the war commenced with the attack Fort Sumter.
The mintage was 56,000 pieces, which experienced widespread circulation. The low mintage makes even well worn pieces command a premium, while the extensive circulation makes higher grade circulated pieces particularly scarce and valuable. NGC reports just one example in uncirculated grade at MS 61, and none are reported at PCGS.
Later in the 1860's, mintages of both the Philadelphia and San Francisco Mint quarters would fall to lower levels, but none of these issues saw as much circulation as the 1860-S, and many were hoarded in reasonable numbers. The 1860-S Seated Liberty Quarter is a very difficult issue to find in any grade and one of the key-dates to a San Francisco set.